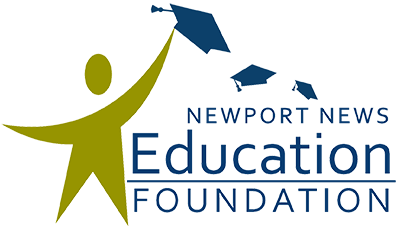 About NNEF
Since it was formed in 1992, NNEF has hosted a number of forums with community leaders to discuss important education issues and has held annual events honoring outstanding high school students.
How does it work?
Underlying the Foundation's commitment is the belief that a strong public education system is essential to a healthy and economically viable community. Students rely on the skills and knowledge they obtain in school to compete successfully in their chosen educational, career and life endeavors.
How well students learn the lessons of school and citizenship will have an impact on them, their families, their employers and their community. To support the school division in offering the children of Newport News the best education possible, the Foundation:
provides opportunities for members of the school, business, professional and military communities to exchange ideas;
supports innovation in the classroom to broaden and improve opportunities for all students;
reviews educational standards and identifies needs;
supports applications for grants and other awards;
supports efforts to obtain necessary resources from state and federal government;
assists in promoting legislative initiatives that will improve education; and recognizes and celebrates our children as the future of Newport News, the Virginia Peninsula, and beyond.
How can businesses and school work together?
Partnerships between educators and business have given rise to programs such as Academic Tech, which integrates academic and technical education from ninth grade through two years of post-secondary education, and An Achievable Dream, a unique public/private effort that helps third- through eighth-graders succeed in school.
Although programs may focus on different age groups or academic areas, all strive either to help students achieve in school, to introduce them to career and work options, or to ease the transition to college or additional training.
Other examples of community and school collaborations are programs that provide mentors and role models for students from business and industry; research facilities that introduce young people to high-tech work settings; professional organizations that provide internships, scholarships and programs for students; and policies by businesses that encourage employees to tutor young people and participate in school activities.
How can I help give young people an insight into the business world?
As a parent, neighbor, friend or business owner, you can help students make the transition to the world or work easier by sharing information about your business or career.
Discuss with young people the experiences and education that led to your career choice.
Give specific examples of how the skills students learn in school--math, writing, or others--are used in your job.
Bring an interested young person to your work site for a tour.
Let students know the importance of managing time wisely and how that skill will help them in the work world.
Ask young people what their interests are and what they are doing to pursue them.
Talk about how setting personal and career goals will help them make better choices about further education or training.
Consider offering internship or apprentice opportunities at your business.
Suggest to your professional organization that it offer a student scholarship or stipend.