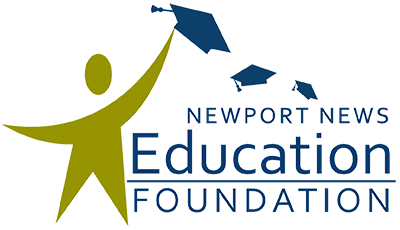 Newport News Education Foundation
What is the Newport News Education Foundation?
Newport News Education Foundation (NNEF) is a diverse group of citizens who support Newport News Public Schools (NNPS) efforts to prepare students for their future. Members bring to the foundation their expertise in business, education, and industry, as well as skills in community and military leadership.
NNEF serves as a convener and facilitator providing events and programs to encourage dialogue between the business and education communities, enabling them to understand what each can do, in collaboration, to ensure the outcome of career-ready students.
NNEF also raises private sector funds to support NNPS in delivering innovative programs in their mission to graduate career-ready students armed with the skills and industry-sanctioned certificates making them employment-ready for local industry.
For more information, contact Monique Hampton, Executive Director, Newport News Education Foundation, (757) 591-4747.
---
Mission: To enrich the quality of teaching and learning by strengthening innovation through sustained business partnerships.
Vision: Students are thriving in an educational environment full of opportunities to succeed in work and life.
Priorities 2020-2021
Advocating for full funding of NNPS
Providing for opportunities for innovation
Supporting regional workforce demands
The Newport News Education Foundation seeks to:
Facilitate more open active and fluid connections and relationships for partners and prospective partners.
Advocate on behalf of Newport News Public Schools.
Communicate in all directions – to the community, public and throughout the school system.
Educate in all directions – to the public about the outstanding opportunities available to students through the school division, and to the Superintendent and staff on perceptions and areas in need of reward/repair.
Become a Salute to Success Sponsor!
Your donation helps students and teachers.
Would you like to help teachers provide innovative and effective programs for their students? Assist a student entering college to become a teacher? Recognize students for their academic and career accomplishments? It's easy. Just click the button below to donate to the Newport News Education Foundation. Your donation will support mini grants for teachers, a scholarship for future teachers, and a virtual event celebrating excellence in academic and career preparation.
Thank you for your support and generosity!
---
Salute to Success: Student Recognition
Newport News Public Schools is home to many outstanding students who have earned state, national and international recognition in many fields of study. The Newport News Education Foundation partners with Newport News Public Schools and community sponsors to recognize students for their academic excellence and career preparation, traditionally with a "Salute to Success" banquet.
Although it was not possible to come together in person for a celebration this year, we are pleased to honor the following students: Valedictorians and Salutatorians; top ranked students in grades 9 - 11, National Merit Scholarship Program honorees, seniors who have earned four or more Industry Certifications, and the 2020 winner of the Wayne D. Lett Scholarship, which is funded through Foundation support.
Congratulations to all of these outstanding students!